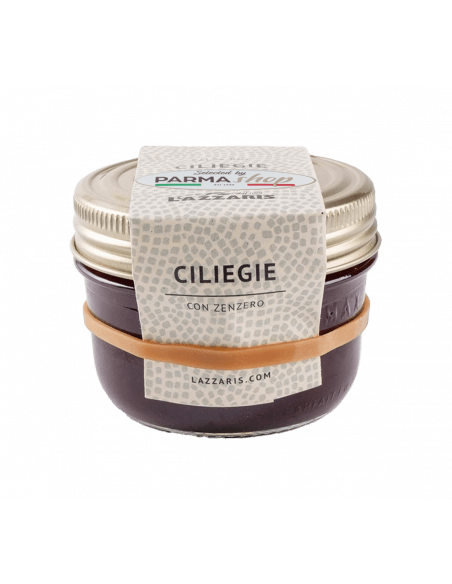 Cherry Sauce with Ginger - Organic
Awards:
Producer: Luigi Lazzaris & Figlio s.r.l.
Shelf life: 2 Years
Containing: 230 gr. / 8.11 oz.
Shipping: Worldwide
1 x Cherry Sauce with Ginger - Organic, 230 gr. / 8.11 oz.
More information about the product
Spedizione con i migliori corrieri

| | Standard | Express |
| --- | --- | --- |
| Italia | Non Disponibile | 1/2 Giorni lavorativi |
| U.E. | 3/5 Giorni lavorativi | 1/3 Giorni lavorativi |
| Altri Paesi | 5/7 Giorni lavorativi | 2/4 Giorni lavorativi |
Cherries cannot miss from Italian tables in the spring and summer period: one leads to another and they can be enjoyed also in tasty desserts. Why just eat them in this period of the year and why not to use this sweet fruit in savoury recipes?
ParmaShop proposes this Exceptional Quality product, so you will be able to enjoy cherries all year round and match them with salty dishes.
The slightly spicy touch of Ginger enhances the flavour and awakens the palate from the sweetness of Cherries: This sauce we have selected for you is contagious, and it is also 100% ORGANIC!
The sweetness of the Cherry and the balsamic spiciness of the Ginger make this sauce unique. It can be spread on a slice of bread, or eaten in combination with creamy cheeses, mozzarella, ricotta or cheeses with a stronger taste and longer ageing. Finally, it goes perfectly with grilled meat, roasts, braised beef and pork. Try it to believe!
How to store it: store in a cool place away from sources of light and heat. After opening, store in the fridge.
Organoleptic properties:
Appearance: Dense
Colour: Dark red
Smell: Fruity
Taste: Sweet and spicy
Ingredients: Cherries 68%, cane sugar, 0.9% ginger, lemon juice.
Allergens: Mustard
Calories per 100 gr.: 235 kcal 
Format: 1 x Cherry Sauce with Ginger - Organic, 230 gr.
Customers who bought this product also bought:
Because our products are appreciated
Parma, Unesco city for gastronomy, is the epicenter of the Italian Food Valley
The best PDO and PGI products carefully selected from the best producers
Roberta and Chiara always available for all your requests
Packs prepared with care in food packaging and shipping with the best couriers