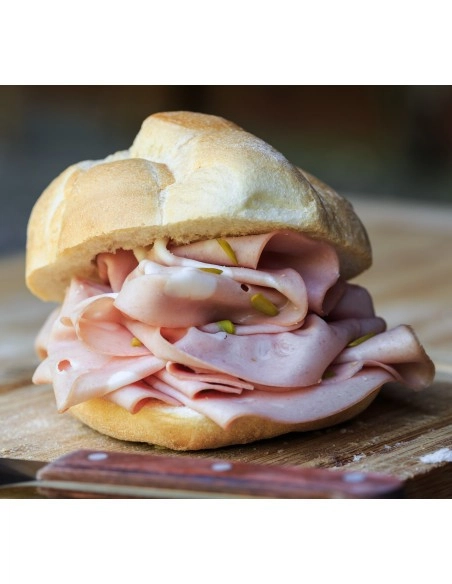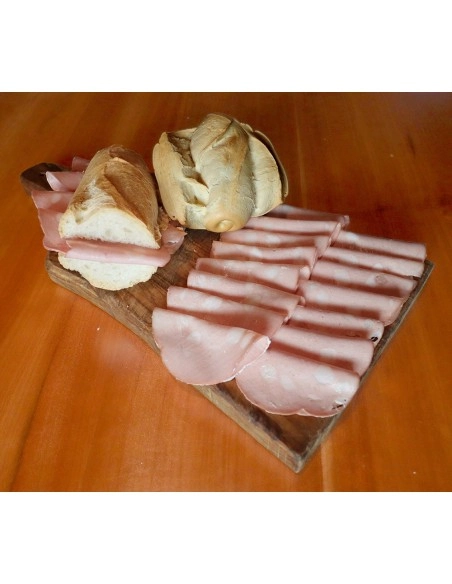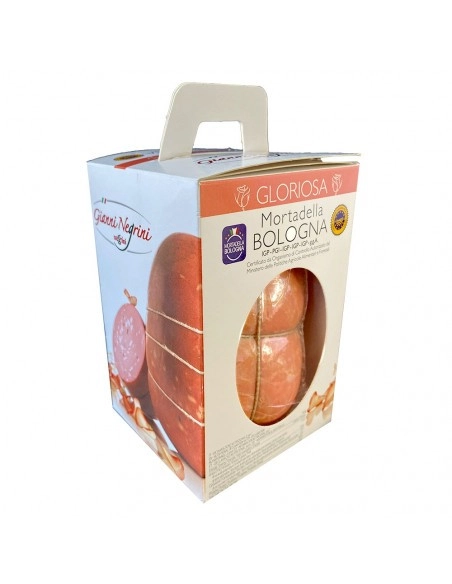 Mortadella Bologna - La Gloriosa - whole PGI 700 gr
Awards:    
Producer: Gianni Negrini
Containing: 700 gr. / 1.54 Lbs.
Shelf Life: : 3 months
Shipping: available only in Europe
1 x Mortadella di Bologna PGI, whole – 700 gr / 1.54 Lbs.
More information about the product
Rated
4.6
/5 Based on
8
customer reviews
Spedizione con i migliori corrieri

| | Standard | Express |
| --- | --- | --- |
| Italia | Non Disponibile | 1/2 Giorni lavorativi |
| U.E. | 3/5 Giorni lavorativi | 1/3 Giorni lavorativi |
| Altri Paesi | 5/7 Giorni lavorativi | 2/4 Giorni lavorativi |
Mortadella di Bologna PGI is a cooked sausage made exclusively from pork meat. Its pink colour and slightly spicy smell are really unique. 
Probably its origins date back to the Medieval period, or even to the Etruscan or Roman era.
It is classified as a rather fat product; in fact the selection of first choice meats and controlled temperature processing have allowed a reduction in the amount of fat.
You will recognize its particular and aromatic taste immediately. 
Mortadella Bologna PGI comes from the combination of the best selections of Italian meats (shoulder and minced) and from the perfect combination of spices and natural aromas, a unique and inimitable mix.
The classic way to enjoy Mortadella di Bologna PGI is to cut slices to put in a sandwich, but it is not the only way to enjoy it. You can cut it into cubes for a delicious aperitif, or to prepare more elaborate recipes such as a mortadella mousse, fillings for savoury pies or to wrap tasty rolls: be creative!
Are you curious to know which wine can be perfectly combined with mortadella? We recommend an Otello Rosè, a rosé sparkling wine from Pinot Noir grapes produced following the Martinotti method: a delicious "tone-on-tone" match!
How to store it: Once open, you can store the sausage in the fridge. Pay attention to cover the cut part with cling film for food. 
Organoleptic properties:
Appearance: solid
Colour: pink with white spots of fat
Smell: aromatic, enveloping fragrance
Taste: strong, savoury, full
Ingredients: pork meat, salt, sucrose, spices. Sodium ascorbate antioxidant; free of gluten, polyphosphates, lactose and calcium caseinate.
Allergens: none
Preservatives: sodium nitrite
Calories per 100 gr: about 274 kcal
Format: cardboard box and vacuum package containing a whole Mortadella di Bologna PGI, 700 gr
Customers who bought this product also bought:
Because our products are appreciated
Parma, Unesco city for gastronomy, is the epicenter of the Italian Food Valley
The best PDO and PGI products carefully selected from the best producers
Roberta and Chiara always available for all your requests
Packs prepared with care in food packaging and shipping with the best couriers