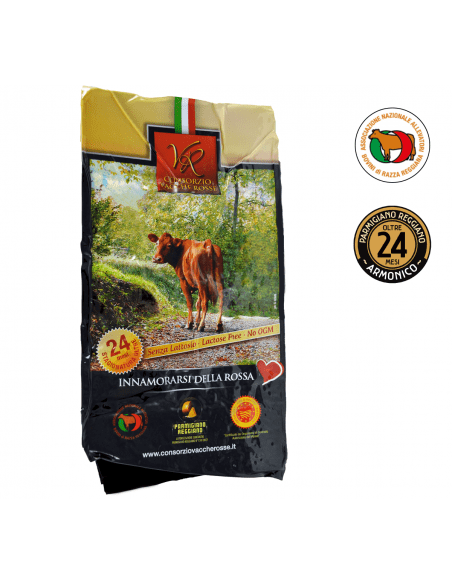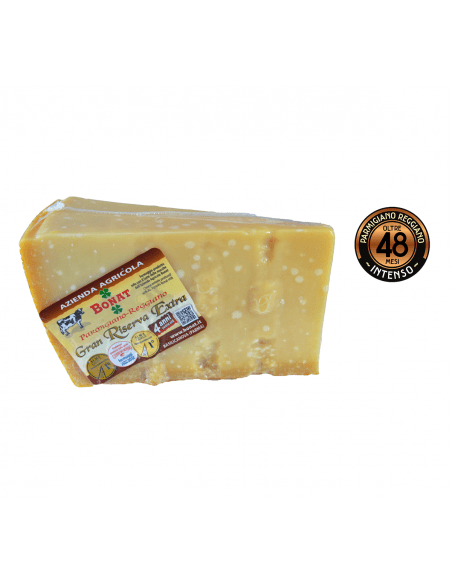 Parmigiano Reggiano DOP - Gourmet Selection
Awards:      
Producer: Vacche Rosse Consortium, Azienda Agricola (farm) Saliceto, Azienda Agricola (farm) Bonat of Bonati Giorgio
Containing:  3 Kg. / 6.6 Lbs.
Shelf Life: : 4/5  months
Shipping: available worldwide, except in Australia
1 x Parmigiano Reggiano PDO Vacche Rosse (Red Cows) 24 Months - 1 kg
1 x Parmigiano Reggiano from the hills PDO 36 months - 1 kg
1 x  Parmigiano Reggiano PDO Bonat 48 months
More information about the product
Rated
4.8
/5 Based on
70
customer reviews
Spedizione con i migliori corrieri

| | Standard | Express |
| --- | --- | --- |
| Italia | Non Disponibile | 1/2 Giorni lavorativi |
| U.E. | 3/5 Giorni lavorativi | 1/3 Giorni lavorativi |
| Altri Paesi | 5/7 Giorni lavorativi | 2/4 Giorni lavorativi |
With its balanced flavour, between savoury and sweet, with unique aromas and a centuries-old history, Parmigiano Reggiano is one of the most popular and appreciated Italian food products in the world.
It was born hundreds of years ago, in the dairies of the Benedictine monks in the Po Valley, and it is produced today as it was centuries ago. It is a simple and genuine cheese, made with only three ingredients: cow's milk, salt and rennet.
In 1992 it was classified as a PDO product, with a Protected Designation of Origin, in order to guarantee its uniqueness: this means that Parmigiano Reggiano PDO can only be produced in certain areas of the Po Valley, near the Po river.
There are also different types of Parmigiano Reggiano PDO: their features depend on the breed of cows that produce the milk, the ageing period (which must necessarily exceed 12 months) or the specific production area.
ParmaShop has decided to offer a selection of the best Italian Parmigiano Reggiano PDO: the one produced with the milk of the breed that gave life to the original product, the red cow, aged 2 years; the one produced in the hills, aged 3 years; the one produced by the renowned Bonati Giorgio farm, aged 4 years.
The more the Parmesan is aged, the more you will perceive a strong and slightly spicy taste, graininess and crispness, characteristics which make it a unique product appreciated by all.
The three pieces of the best Parmigiano Reggiano PDO are perfect for a tasting, in which Parmigiano is certainly the protagonist.
We suggest starting the tasting with the youngest and most delicate cheese, and then ending with the more aged one, with a stronger flavour.
Although Parmesan is a cheese suitable to many recipes, these products are ideal to be enjoyed alone.
To make the flavour even more unique, you can combine Parmigiano Reggiano with honey, sweet jams, fresh or dried fruit or a few drops of balsamic vinegar, certainly the most traditional combination.
How to store it: Parmigiano Reggiano, shipped in portions obtained directly from cutting the whole wheel, once extracted from the vacuum has to be kept wrapped in cling film and placed in the lower area of the domestic refrigerator, at a temperature between + 4 ° / + 8° C. The surface of the rind has to be kept clean in order to avoid the creation of mold.
Aged: 24 months, 36 months and 48 months
Organoleptic properties: for details on the organoleptic properties we suggest to visit the pages of the individual products
Appearance: slightly grainy, with some traces of tyrosine
Colour: pale straw yellow
Smell: with an aromatic and balanced perfume
Taste: full flavour, sweet
Ingredients: cow's milk, salt and rennet
Allergens: milk and products thereof; free from lactose, additives and preservatives
Preservatives: none
Calories per 100 gr:  402 kcal
Format:3 pieces of 1 kg each of the best Parmigiano Reggiano PDO: Red Cows 24 months + Parmesan from hills 36 months + Parmigiano Bonat 4 years, individually vacuum packed
Customers who bought this product also bought:
Because our products are appreciated
Parma, Unesco city for gastronomy, is the epicenter of the Italian Food Valley
The best PDO and PGI products carefully selected from the best producers
Roberta and Chiara always available for all your requests
Packs prepared with care in food packaging and shipping with the best couriers