Wrapped around a breadstick, lying on a slice of pizza, distributed in a sandwich or lying comfortably on an appetizer plate: from any point of view you look at it, the slice of Parma ham PDO always has its own reason.
And Parma ham from "why" has a lot of it. Just think of its millenary tradition: it was the main element of the Roman banquets, loved above all for its refined and delicate taste, which made it an excellent dish to accompany with good red wine.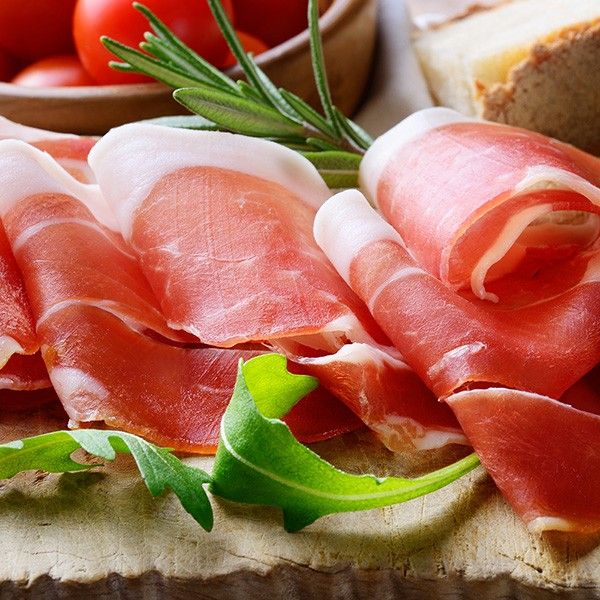 However, the unique flavour of Parma Ham is achieved through a long and complex process: the hind legs of the hog are seasoned with pure sea salt to keep the meat as sweet and soft as possible. After a long curing process in refrigerated rooms, the meat becomes tender and the characteristic aroma and flavour of Parma Ham emerges.
Hams are washed with warm water and brushed in order to remove excess salt and impurities, then hung in drying rooms for a few days. After salting and drying the ham, the final touch: it gets fire-branded will with the official symbol of the Ducal Crown.
Eating Parma ham PDO means living a unique and unforgettable experience.
Let yourself be overwhelmed by its intense and refined taste, which can satisfy even the most demanding palates; let yourself be enchanted by its nuances and shades, which vary from intense red to the white of lard; let yourself be inebriated by its unique and genuine aroma. In summary, eating Parma ham PDO means travelling between timeless aromas, flavours and wonders.
Finally, Parma ham PDO is for everybody: low in calories and rich in minerals and easy to digest, proteins make it the perfect food both for lunch and dinner, for adults and for the young ones.
Thanks to ParmaShop you can taste the real Parma ham PDO. In the catalogue you will find a wide selection of hams branded by the Consortium, characterized by curing periods ranging from 16 to 30 months. The ham stands, knives and slicers will allow you to enjoy all its peculiarities.
For any doubt or clarification, do not hesitate to contact our Customer Service.
Because our products are appreciated
Parma, Unesco city for gastronomy, is the epicenter of the Italian Food Valley
The best PDO and PGI products carefully selected from the best producers
Roberta and Chiara always available for all your requests
Packs prepared with care in food packaging and shipping with the best couriers