Pecorino and Other Cheese
Already towards the end of the XV century the Pecorino Toscano (from Tuscany) was considered the best cheese of Italy, on a par with Parmigiano Reggiano; today, this product is labeled with the Protected Designation of Origin (PDO). In the past it was called "marzolino" because its production began in March. This cheese can be soft or semi-hard (depending on the aging) and is produced using whole sheep's milk. It stands out for its strong flavour and for its delicate aroma. The Tuscan Pecorino PDO is produced with care and love in the entire territory of the Tuscany region and in the surrounding municipalities.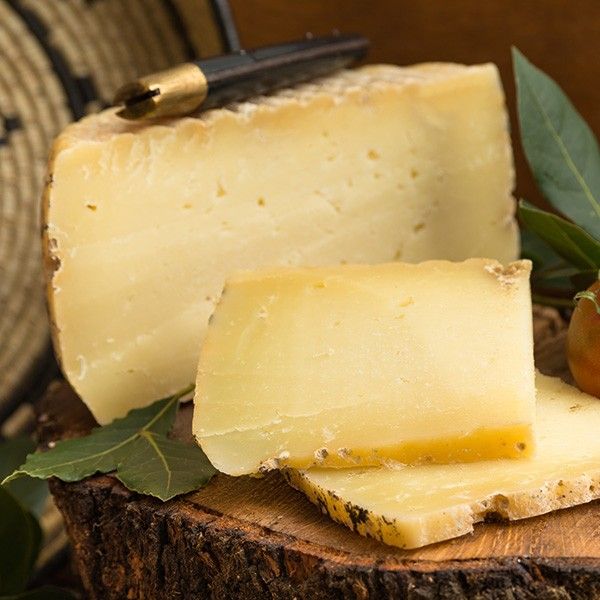 How can you make the best use of this cheese? The Pecorino Toscano PDO can be used to prepare many recipes: cut into chunks in salads, with sautéed mushrooms or with vegetables.
With this cheese you can also create tasty appetizers for your happy hour: in this case, it will be enough to accompany it with a toasted Tuscan bread (the bruschetta) and some drops of PDO extra virgin olive oil.
In case you prefer stronger flavours, instead, you can try the Pecorino Toscano PDO with the most delicious Tuscan salami.
To complete a first course, grate it on pasta. Pour a teaspoon of honey on a piece of Pecorino: this particular combination will surprise you as well.
Obviously, you cannot miss to accompany the Tuscan Pecorino PDO with a glass of good wine. We highly recommend white or delicate red wines for a younger cheese, while you can drink a full-bodied red wine with a more aged Pecorino.
The Tuscan Pecorino PDO available on ParmaShop comes directly from the Caseificio Val D'Orcia, that received several awards, such as in 1990 for the "Best Italian Pecorino", of which it is still the holder.
At ParmaShop you can opt for one of these types of Pecorino:
• Fresh 2.3 kg (whole wheel)
• Fresh 1 kg (half wheel)
• Aged 2 kg (whole wheel)
• Aged 1 kg (half wheel)
ParmaShop also offers the half wheel (1 kg) of aged Tuscan Pecorino PDO with a bottle of fig vinegar glaze, a tasty combination of sweet and savoury which will delight your taste buds.
If you have any questions or would like some advice on our products and how to consume them, do not hesitate to contact us by phone or e-mail.
Offerta del giorno
---
I nostri prodotti
---
Because our products are appreciated
Parma, Unesco city for gastronomy, is the epicenter of the Italian Food Valley
The best PDO and PGI products carefully selected from the best producers
Roberta and Chiara always available for all your requests
Packs prepared with care in food packaging and shipping with the best couriers