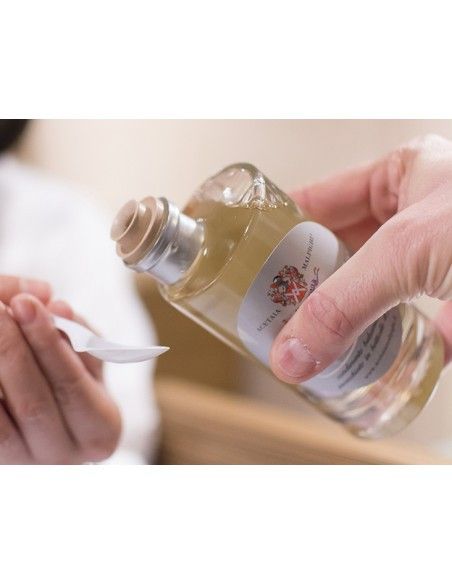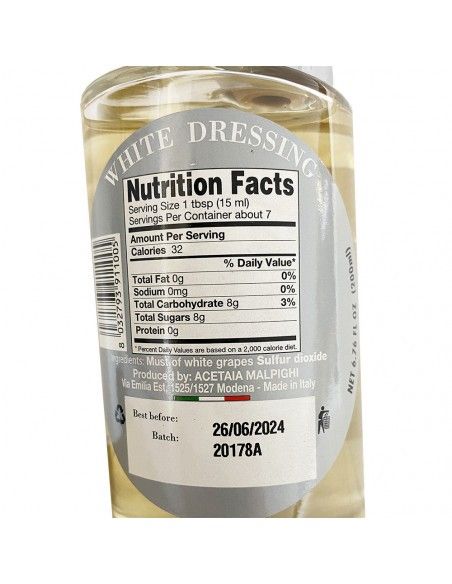 White Dressing - Prelibato - 5 Years
Producer: Acetaia Malpighi
Containing: 200 ml. / 6.76 fl. oz.
Shelf Life: Balsamic Vinegar does not expire – a shelf life of 10 years is indicated according to the law.
Shipping: All the World
Box containing 1 x 200 ml.-glass bottle
More information about the product
Rated
5
/5 Based on
15
customer reviews
Spedizione con i migliori corrieri

| | Standard | Express |
| --- | --- | --- |
| Italia | Non Disponibile | 1/2 Giorni lavorativi |
| U.E. | 3/5 Giorni lavorativi | 1/3 Giorni lavorativi |
| Altri Paesi | 5/7 Giorni lavorativi | 2/4 Giorni lavorativi |
The white dressing "Prelibato" comes from the same tradition as the dark dressings of Balsamic Vinegar. The difference is that it is obtained from the cooked must of white Trebbiano Modenese grapes: it is clear, light and transparent.
It is therefore particularly appreciated by those who do not like the dark dripping of Balsamic Vinegar on dishes, especially in salads and fish.
It is aged for at least 5 years in ash barrels which give the product aroma and creaminess without altering its clarity.
It is ideal for marinating meat and fish, on vegetables (both cooked and not), on soft and young cheeses, thought it is perfect also on white meat, as its sweet-and-sour taste is harmonic and delicate.
Also, its bottle is beautiful and original!
The characteristic delicate taste of the white dressing Prelibato makes it perfect for dishes of river and sea fish, crustaceans, shellfish, caviar, as well as fresh or canned fruit.
Come to visit our Blog for suggestions and recipes!
How to store it: : It is highly recommended to store it in a dry and dark place. Please, avoid important temperature variations.
Organoleptic properties:
Appearance: Clear
Colour: White, transparent
Smell: Fresh and fruity

Taste: Sweet-and-sour, smooth, harmonic, fresh
Density: 1,22
Ingredients: Acetified must of white grapes.
Allergens: Sulphites
Preservatives: None
Calories per 100 ml: About 213 kcal
Format: Box containing 1 x 200 ml-glass bottle 
Customers who bought this product also bought:
Because our products are appreciated
Parma, Unesco city for gastronomy, is the epicenter of the Italian Food Valley
The best PDO and PGI products carefully selected from the best producers
Roberta and Chiara always available for all your requests
Packs prepared with care in food packaging and shipping with the best couriers