"A mountain of grated Parmesan, on which macaroni and ravioli were rolled".
It is certainly not a coincidence that we find a reference of Parmigiano Reggiano in Boccaccio's Decameron, one of the masterpieces of Italian literature. In fact, it is considered the "King of cheeses", the undisputed symbol of the high quality and good taste of the Made in Italy. The name of Parmesan cheese derives from its producing areas: the provinces of Parma, Reggio Emilia, the western side of Bologna and Modena in Emilia-Romagna, as well as part of Mantua in Lombardy, on the south-eastern bank of the Po river.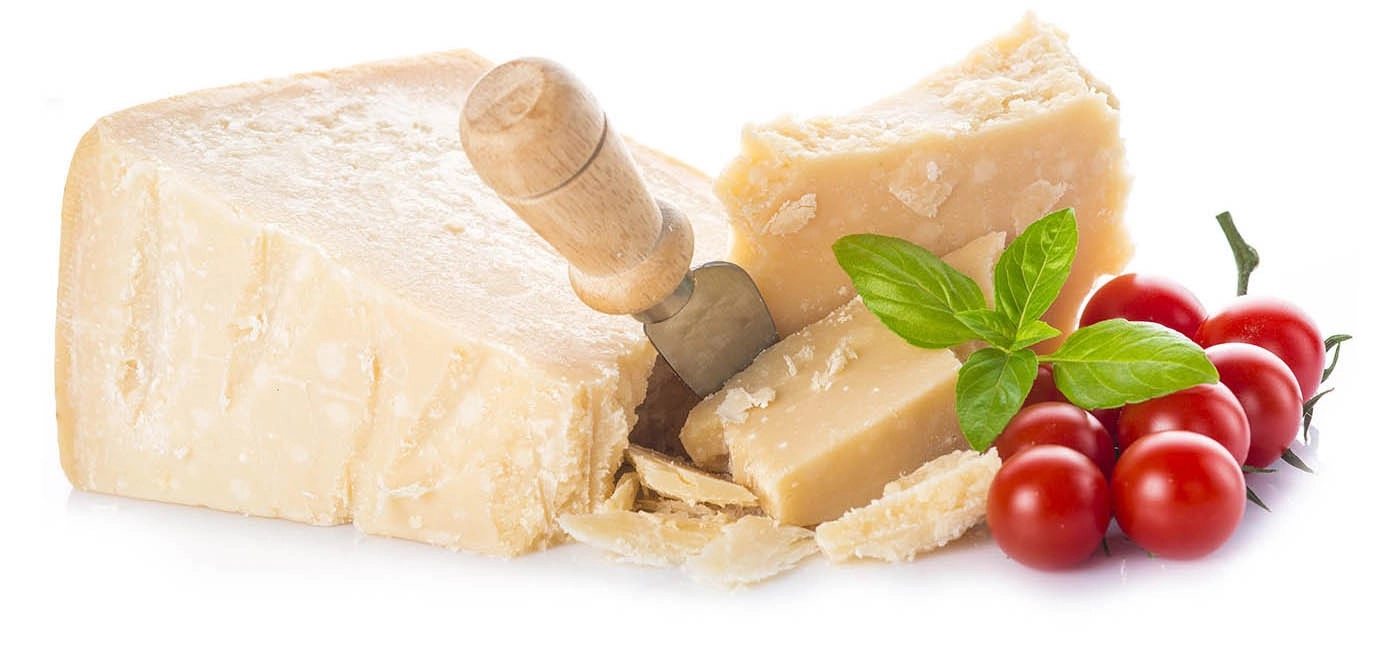 Parmigiano Reggiano is a mature cheese, with a minimum aging of 12 months, which is made of cow's milk, rennet and a pinch of salt.It is made of 30% water and 70% nutrients; its flavour and aftertaste depends on the aging and the milk, so the cow it derives from. The production process is long and consists of several steps: first, the milk of the morning and the previous evening is poured into copper cauldrons, so milk coagulates.n The curd is then broken up into tiny granules, cooked at 55 ° C; at the end of the cooking process, these granules deposit on the bottom of the boiler forming a single mass. After about fifty minutes, the cheese mass is extracted, cut in two parts and wrapped in a linen cloth. The last step consists in depositing the cheese in a mold that will give it its final shape. When can you enjoy Parmigiano Reggiano? This type of cheese matches perfectly with any dish.
You will appreciate it grated on pasta, rice and soup, or as an appetizer for a happy hour, with a Spritz or a cocktail.
In addition, it can become the flagship of salads and cutting boards. Furthermore, it is often a guest of honour at weddings: the shape of Parmigiano Reggiano, containing the flakes inside, is one of the key elements of the typical Italian wedding ... and much more. For 25 years, ParmaShop has been bringing together a wide selection of Parmigiano Reggiano which you can buy in 1 kg-pieces, half-wheels or whole wheels; also you will find useful accessories, such as graters, cheese containers and knives. Our Parmigiano Reggiano comes from small companies at the foot of the Apennines, awarded important events on several occasions.
Here are some types of Parmigiano Reggiano that you can find on ParmaShop:

• Parmigiano Reggiano Bonat, awarded as the Best Parmigiano Reggiano at Cibus 2012 by the International School of Italian Cuisine (ALMA);

• "Extra" Parmigiano Reggiano from hill, aged 24 months, which balances sweet and savoury;

• Parmigiano Reggiano from hill, aged 36 months, whose flavour is characterized by hints of spices and dried fruit;

• "Extra" Mountain Parmigiano Reggiano, aged 24 months, whose flavour reminds the typical aromas of the mountain;

• Parmigiano Reggiano Vacche Rosse Red Cows, aged between 2 and 4 years, which derives from the cows of the Reggio Emilia breed, almost extinct;

• Parmigiano Reggiano from organic farming, produced with natural rennet and without the addition of preservatives.
Are you unsure of the type of Parmigiano Reggiano you want? Contact ParmaShop's Customer Service: our team will be at your disposal to guide you on a journey through the flavours of...Parmigiano Reggiano.
Because our products are appreciated
Parma, Unesco city for gastronomy, is the epicenter of the Italian Food Valley
The best PDO and PGI products carefully selected from the best producers
Roberta and Chiara always available for all your requests
Packs prepared with care in food packaging and shipping with the best couriers