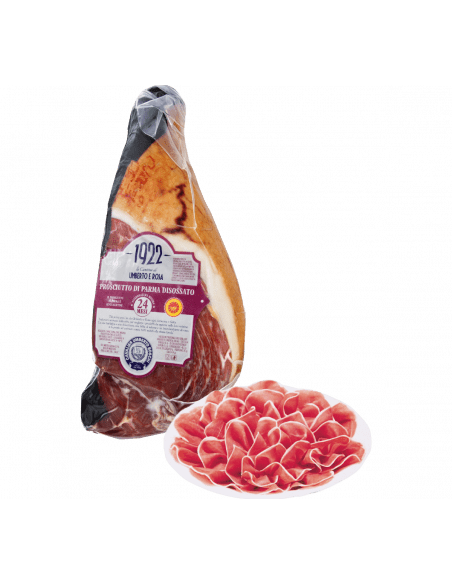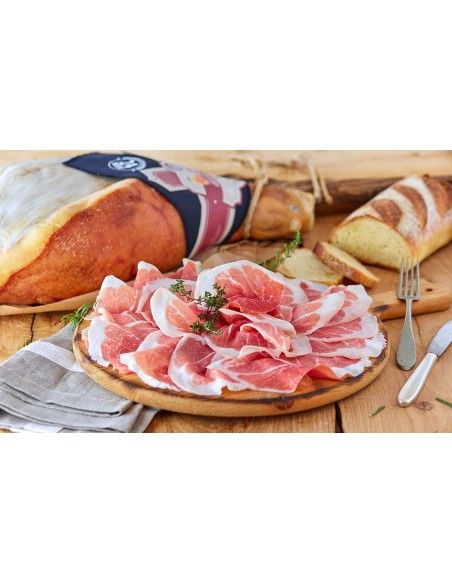 Prosciutto di Parma PDO - 24 Months - Half - Boneless (4.0 Kg. / 8.80 Lbs.)
🏆 Awards: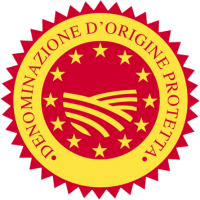 👨‍🌾 Producer: Salumificio Cav. Umberto Boschi
⚖️ Containing: ±4.0 Kg. / 8.80 Lbs.
📦 Vacuum Packed: Yes
⏱️ Shelf Life: : 5 Months
✈️ Shipping: Europe
More information about the product
Rated
4.8
/5 Based on
21
customer reviews
Spedizione con i migliori corrieri

| | Standard | Express |
| --- | --- | --- |
| Italia | Non Disponibile | 1/2 Giorni lavorativi |
| U.E. | 3/5 Giorni lavorativi | 1/3 Giorni lavorativi |
| Altri Paesi | 5/7 Giorni lavorativi | 2/4 Giorni lavorativi |
The delicacy of the exclusive line of Cantina di Umberto e Rosa 1922 brings to our tables this 24-month-aged Prosciutto di Parma with a sweet and unique flavour. Cavalier Umberto Boschi's prosciuttificio is located on the hills of the province of Parma, in Langhirano. The territory is the main ingredient of this ham, as the particular climatic conditions are ideal for natural curing, which will give sweetness and taste to Parma Ham.
In addition to these natural elements, it is the attention to detail and care in the various stages of production that make the difference and make Parma ham truly unique. The Boschi family has always paid attention to these aspects.
When cut, the colour is halfway between pink and red, with parts of white fat, which guarantees its softness. Its taste is delicate and sweet, and this is the main feature of this product. The ham obtained from the right thigh, in particular, is very soft, since the pig tends to always sleep on the same side and for this reason the thigh is softer.
The Parma Ham of the exclusive selection of Cantina di Umberto e Rosa 1922, aged for a minimum of 24 months, has a unique sweetness.
Remove part of the rind with a sharp knife. We suggest not removing all the fat, because it helps to preserve the unique flavour. The slices must be thin (thickness of a sheet of paper). Parma Ham is always a good idea and matches well with everything: those who love a savoury breakfast can eat it in the morning, for example to fill a crepes or an omelette; Prosciutto di Parma can be used to prepare lots of recipes for your lunch (you can find some ideas in our Blog); for a happy hour, it is always the protagonist of a delicious charcuterie board; finally, for a quick but tasty dinner, there is nothing better than a simple but appetizing sandwich with Parma ham.
The wines of our territory, Lambrusco in particular, go perfectly with this unique and inimitable 
How to store it: the product vacuum packed can be stored until the best before date in the package. Once opened, the product must absolutely be stored in the refrigerator, at a temperature between + 4 ° C and + 8 ° C. For a perfect storage, we suggest to lightly oil the cut part, then cover it with a plastic film for food.
Organoleptic properties:
Appearance: slightly moist meat
Colour: bright red in the lean part (with traces of fat and tyrosine); white in the fat part
Smell: hint of toasted and a slight smell of salt
Taste: balanced, between sweet and savoury
Aged: 24 months
Ingredients: pork and sea salt; gluten and lactose free
Allergens: none
Preservatives: none
Calories per 100 gr: about 267 kcal
Customers who bought this product also bought:
Because our products are appreciated
Parma, Unesco city for gastronomy, is the epicenter of the Italian Food Valley
The best PDO and PGI products carefully selected from the best producers
Roberta and Chiara always available for all your requests
Packs prepared with care in food packaging and shipping with the best couriers