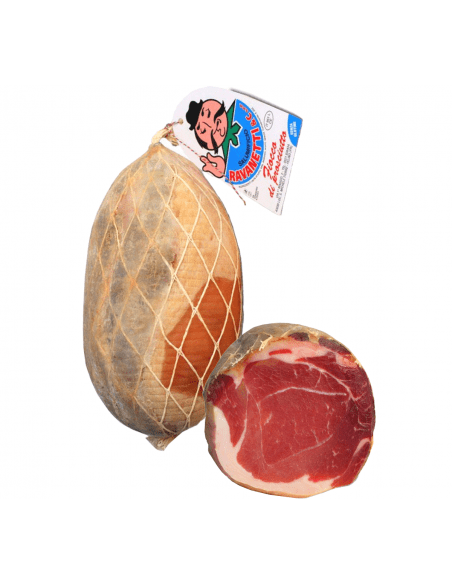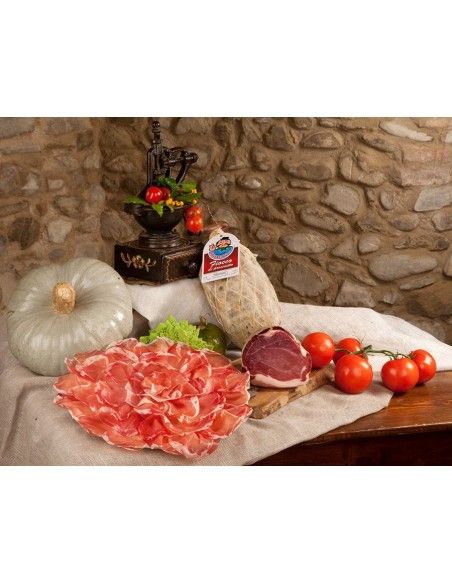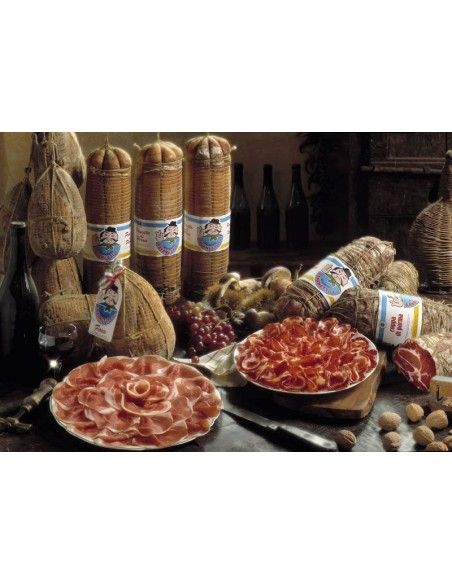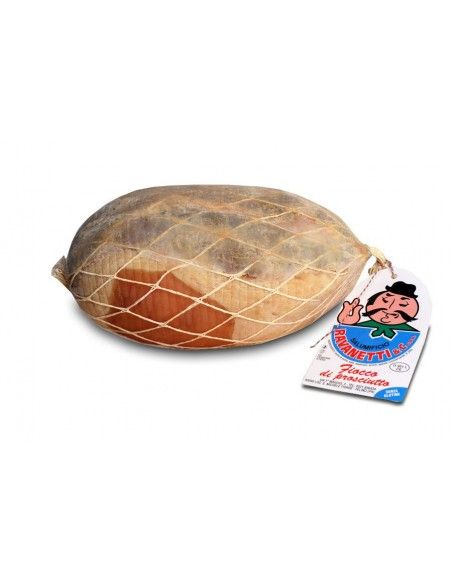 Fiocco di Prosciutto with pork rind, aged 9 months, half
Producer: Salumificio Ravanetti
Containing: 0,9 Kg. / 1.98 Lbs.
Shelf Life: : 4 months
Shipping: available only in Europe
1 x Fiocco di Prosciutto with pork rind, aged 9 months, half– 0,9 kg
More information about the product
Rated
4.9
/5 Based on
38
customer reviews
Spedizione con i migliori corrieri

| | Standard | Express |
| --- | --- | --- |
| Italia | Non Disponibile | 1/2 Giorni lavorativi |
| U.E. | 3/5 Giorni lavorativi | 1/3 Giorni lavorativi |
| Altri Paesi | 5/7 Giorni lavorativi | 2/4 Giorni lavorativi |
Among the most prestigious cured meats and symbol of our culinary tradition, Fiocco di Prosciutto is a speciality of our territory. It is the younger brother of culatello, as it is obtained from the smallest and leanest cut of the pork leg, and processed following the ancient tradition, like its big brother. It is thus a light cold cut, with high protein value.
The production phases are carefully followed by norcini; the process ends with the curing process, which takes place in old cellars located in the lower Parma area, on the banks of the Po river.
Slices are red with an intense, spicy aroma and a delicate flavour.
The best way to enjoy Fiocco di Prosciutto is to cut very thin slices and eat them just with bread and butter curls. Try it before your main meal, with some flakes of Parmigiano Reggiano PDO; we suggest a young cheese, with a more delicate flavour, which does not dominate the fiocco. We suggest to remove the external layer of rind only in the point you want to consume, in order to store it appropriately.
How to store it: once cut, wrap the fiocco in a cloth soaked with white wine; wet it again every 3-4 days; replace the cloth after about 10 days. It is recommended to store it in the lower part of the fridge. 
Organoleptic properties:
Appearance: rather dry meat (lean part)
Colour: bright red, tending to ruby
Smell: hint of toasted and a slight smell of salt
Taste: sweet and balanced
Aged: 9 months
Ingredients: pork, salt, dextrose, natural flavourings and spices; gluten free
Allergens: none
Preservatives: E250 - E252
Calories per 100 g: about 231 kcal
Format: half Fiocco di Prosciutto with rind and lard, 0,9 kg, vacuum-packaged
Customers who bought this product also bought:
Because our products are appreciated
Parma, Unesco city for gastronomy, is the epicenter of the Italian Food Valley
The best PDO and PGI products carefully selected from the best producers
Roberta and Chiara always available for all your requests
Packs prepared with care in food packaging and shipping with the best couriers