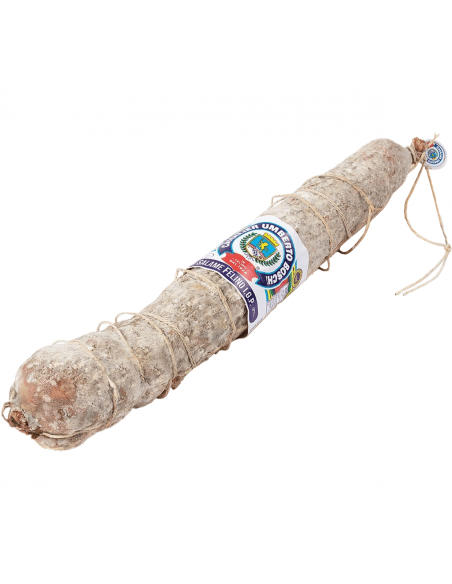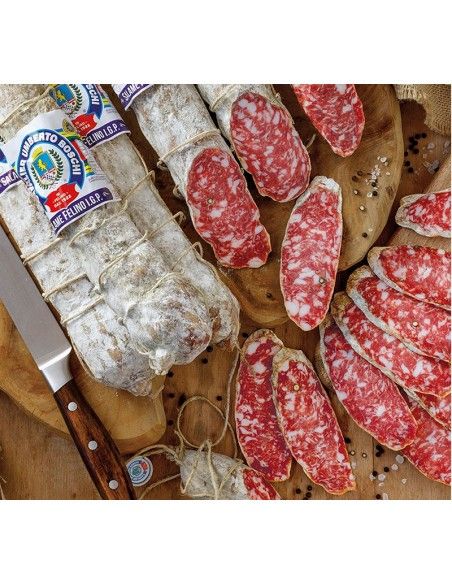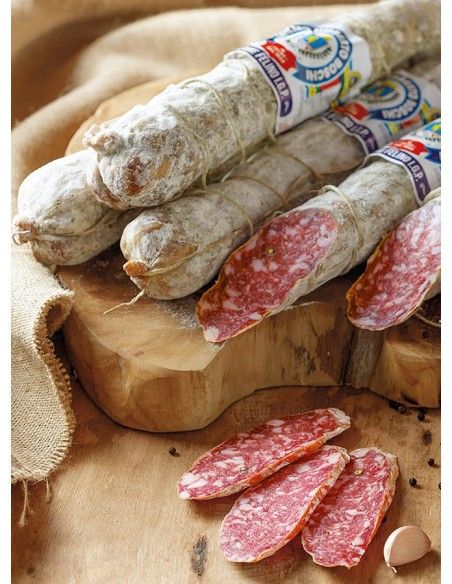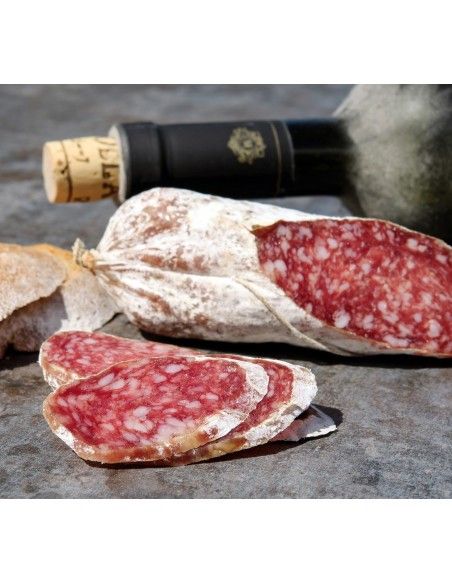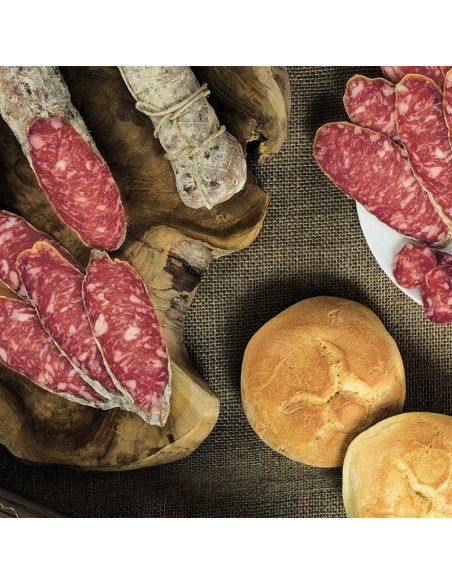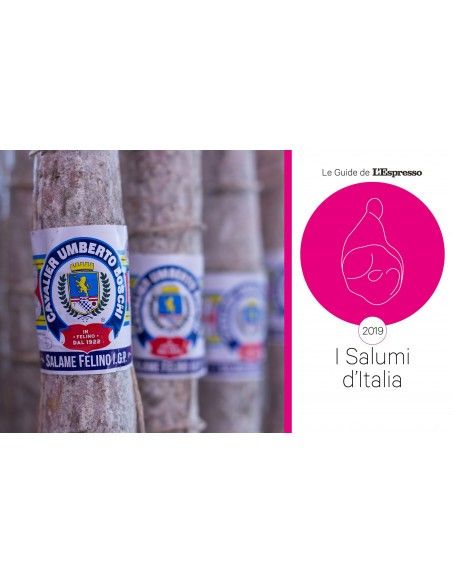 Awards:
Producer: Salumificio Cav. Umberto Boschi
Containing: 500 gr. / 1.1 Lbs.
Shelf Life: : about 2 months
Shipping: available only in Europe
1 x Salame di Felino PGI – 500 gr / 1.1 Lbs.
More information about the product
Rated
4.9
/5 Based on
123
customer reviews
Spedizione con i migliori corrieri

| | Standard | Express |
| --- | --- | --- |
| Italia | Non Disponibile | 1/2 Giorni lavorativi |
| U.E. | 3/5 Giorni lavorativi | 1/3 Giorni lavorativi |
| Altri Paesi | 5/7 Giorni lavorativi | 2/4 Giorni lavorativi |
The Salame di Felino PGI is a type of salami, obtained from the mixture of pure Italian pork, little salt and black pepper, finally flavoured with Malvasia dei Colli di Parma and garlic. Its name comes from the small town of Felino, situated near the hills, in the province of Parma, where this delicacy is produced.
Cavalier Umberto Boschi uses only the so-called bench mince, a precious cut which can be found in low quantity in each pig. Actually, one pig can give birth to one Salame only, apart from all other cuts such as ham, Culatello, Coppa, etc.
Once stuffed into natural casing, the Salame is tied by hand with natural fibre twine and hung for its ageing process. After about 50 days, this product obtains the sweet and slightly spicy taste that will conquer you.
Remove the external layer from the part you want to cut. Use a long-bladed knife, cutting it diagonally; the thickness of the slice must be equal to the size of a peppercorn.
We suggest to eat Salame di Felino PGI with some flakes of Parmigiano Reggiano PDO and a delicious Giardiniera during your happy hour, accompanied by one of our sparkling wines.
Here in Parma we use to enjoy it in the typical micca, the bread of Parma, crunchy outside and soft inside.
How to store it: once cut, the product must be stored in the fridge, wrapped in cling film or in a cloth. Eat within a few days.
Organoleptic properties:
Appearance: compact consistency
Colour: bright red inside
Smell: pungent, spicy
Taste: strong and full
Ingredients: Pork, salt, natural flavours, wine; gluten-free and lactose-free
Allergens: none
Preservatives: potassium nitrate
Calories per 100 gr: about 345 Kcal
Format: whole Salame di Felino PGI, 500 gr
Customers who bought this product also bought:
Because our products are appreciated
Parma, Unesco city for gastronomy, is the epicenter of the Italian Food Valley
The best PDO and PGI products carefully selected from the best producers
Roberta and Chiara always available for all your requests
Packs prepared with care in food packaging and shipping with the best couriers