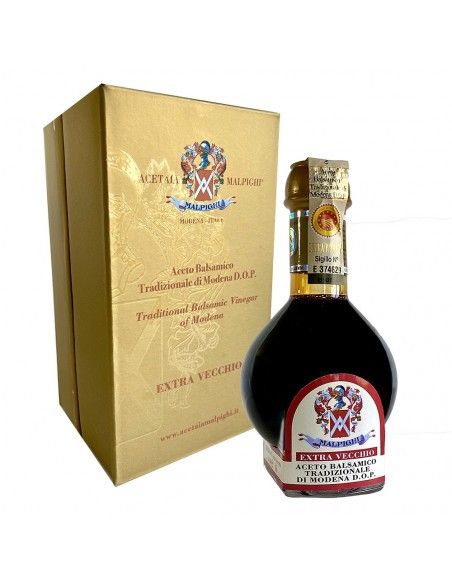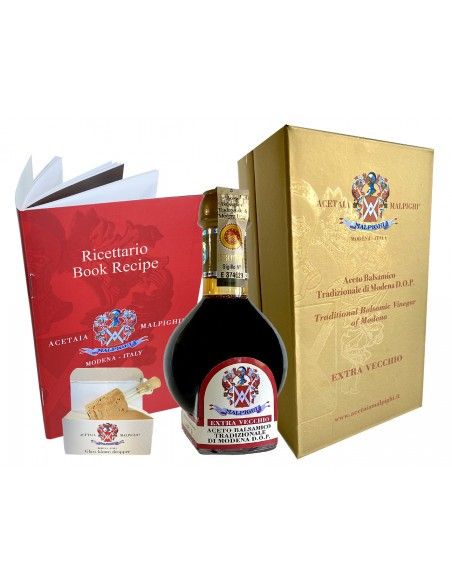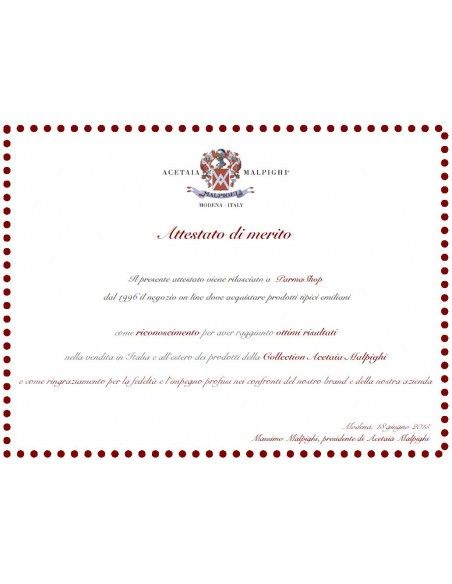 Traditional Balsamic Vinegar of Modena PDO - Extra Vecchio - More Than 25 Years
Awards: 
Producer: Acetaia Malpighi
Containing: 100 ml. / 3.38 fl. oz.
Shelf Life: Traditional Balsamic Vinegar does not expire – a shelf life of 10 years is indicated according to the law.
Shipping: All the World
Box containing 1 x 100 ml.-Glass Bottle + Glass Tic Dropper + Recipe Books
More information about the product
Rated
5
/5 Based on
42
customer reviews
Spedizione con i migliori corrieri

| | Standard | Express |
| --- | --- | --- |
| Italia | Non Disponibile | 1/2 Giorni lavorativi |
| U.E. | 3/5 Giorni lavorativi | 1/3 Giorni lavorativi |
| Altri Paesi | 5/7 Giorni lavorativi | 2/4 Giorni lavorativi |
Traditional Balsamic Vinegar of Modena PDO Extra Vecchio is a product aged for a minimum of 25 years. Its taste is harmonic and mature; it is peculiar for its high density and a persistent and intense smell. 
After 25 years of ageing, it becomes Extra Vecchio and achieves a particular aroma thanks to the precious woods of the barrels. 
Placed in the attics and subject to temperature variations typical of the area of Modena, the product ages in barrels of different dimension and made of different types of wood. 
The dark colour comes from the permanence in chestnut wood barrels, the mulberry wood concentrates the product more quickly and the juniper wood releases the resinous essences; the cherry wood softens the flavour, while the oak wood gives the vinegar a note of vanilla.
Born as a digestive to be taken at the end of a meal, over time it has found use in the menus of great international chefs.
After a strict examination by the Consortium of producers of Traditional Balsamic Vinegar of Modena PDO, of which Ermes Malpighi is one of the founders, the vinegar can be bottled in special bottles approved by the Consortium and designed by the popular designer Giorgietto Giugiaro.
A numbered guarantee seal is applied to each bottle.
That of Traditional Balsamic Vinegar is a story full of charm and mystery. It is the story of a product which results from the intelligence and passion of men, which dates back to over 1000 years.
We can find specific information about this "elixir" in various documents of the Dukes of Este, who contributed to making Balsamic Vinegar popular in the Courts of their time: in 1764, the Tsarina of Russia Catherine the Great sent her Chancellor on a diplomatic mission to the European capitals. When he arrived in Modena, he asked to send some bottles of Balsamic from the local acetaie to Moscow; in 1792,  on the occasion of the coronation of Archduke Francesco II of Austria as Emperor of the Holy Roman Empire in Frankfurt, Duke Ercole III d'Este stated that his centuries-old vinegar was worthy of being sent as a gift to the Emperor in the modest size of a bottle.
The Malpighi family is one of the oldest producers of Traditional Balsamic Vinegar of Modena PDO (from 1850, they have arrived to the fifth generation), and owns 3000 barrels in which Traditional Balsamic Vinegar ages and acidifies.
The Traditional Balsamic Vinegar Extra Vecchio is suitable for important, tasty and spicy cheeses, for fruit salads of berries, strawberries or cherries, for custard cream or ice-cream, for panettone or strudel, or for refined cocktails.
This vinegar is also ideal to be enjoyed at the end of a meal as a digestive, using a small pottery or plastic teaspoon. It is recommended to avoid steel, as it alters the product.
Excellent for meat tartare and risotti, as well as on desserts with dark chocolates. 
How to store it: It is highly recommended to store it in a dry and dark place. Traditional Balsamic Vinegar does not expire, though a shelf life of 10 years is displayed according to the law.
Organoleptic properties:
Appearance: Clear
Colour: Dark brown, shiny
Smell: Pungent but harmonic
Taste: Sweet-and-sour, dense, full and smooth 
Density: 1,34
Ingredients: Cooked must of grapes from Modena (Trebbiano and Lambrusco)
Allergens: Sulphites
Preservatives: None
Calories per 5 ml: About 47 kcal
Format: 100 ml-glass bottle designed by Giorgetto Giugiaro, box of the Consortium of Producers of Traditional Balsamic Vinegar, glass tic dropper and recipe book.
Customers who bought this product also bought:
Because our products are appreciated
Parma, Unesco city for gastronomy, is the epicenter of the Italian Food Valley
The best PDO and PGI products carefully selected from the best producers
Roberta and Chiara always available for all your requests
Packs prepared with care in food packaging and shipping with the best couriers