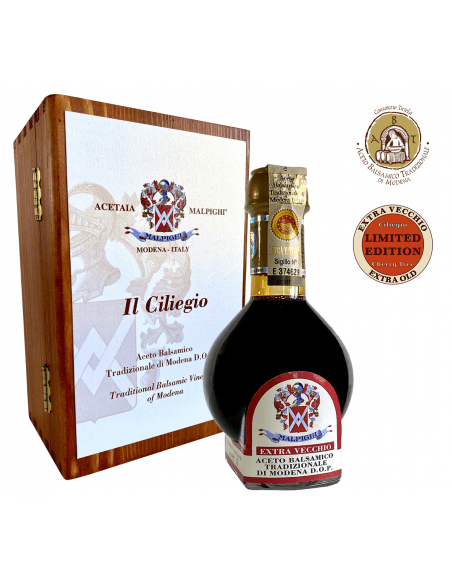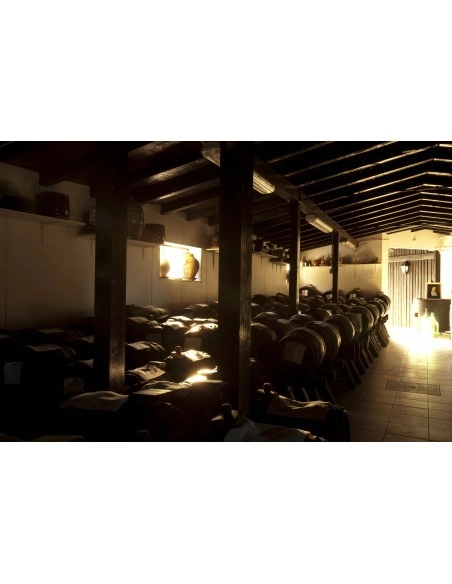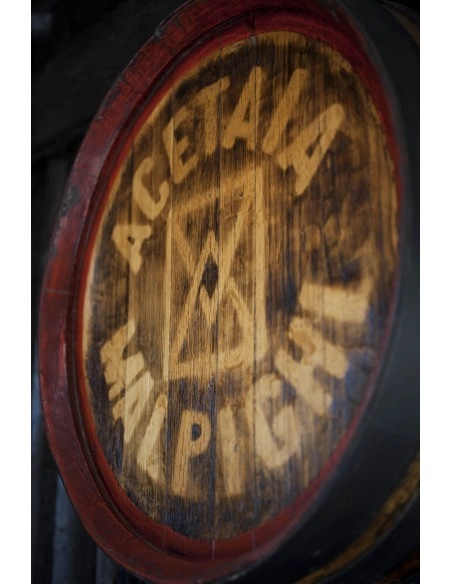 Traditional Balsamic Vinegar of Modena PDO - Ciliegio - Aged Decades
Awards: 
Producer: Acetaia Malpighi
Containing: 100 ml. / 3.38 fl. oz.
Shelf Life: Traditional Balsamic Vinegar does not expire – a shelf life of 10 years is indicated according to the law.
Shipping: All the World
Aged several decades, for more than two generations, box containing 1 x 100 ml-glass bottle glass tic dropper + recipe books. Limited Edition.
More information about the product
Rated
5
/5 Based on
4
customer reviews
Spedizione con i migliori corrieri

| | Standard | Express |
| --- | --- | --- |
| Italia | Non Disponibile | 1/2 Giorni lavorativi |
| U.E. | 3/5 Giorni lavorativi | 1/3 Giorni lavorativi |
| Altri Paesi | 5/7 Giorni lavorativi | 2/4 Giorni lavorativi |
Aged for over two generations in ancient Cherry wood barrels, the characteristics of which give the product sweetness and soft taste nuances.
This period of time transforms the grapes of Modena into this exceptional Traditional Balsamic Vinegar. 
The grape is cooked slowly into big steel pans, so the smell evaporates. The must thickens naturally and begins to achieve the traditional brown colour. 
Then, the liquid placed in the attics of houses for the ageing process: the barrels are subject to the summer heat and the winter cold, a temperature variation which is typical of the area of production. 
The product is decanted every year, from the bigger barrel to the smaller. So, the product in this small bottle is the result of a long work which began last century by people who waited all these years to offer a real elixir!
The sweet-and-sour aroma which is called "Balsamo" comes from the wood of the barrels. 
To each type of wood corresponds a different taste, and the type of wood is selected by each family that produces Traditional Balsamic Vinegar. 
It is perfect to enjoy raw: on meat, fish, cheeses (fresh and aged). It is amazing with custard cream or on strawberries, fresh fruit in general, ice-cream or on dark chocolate flakes. 
It was born to be enjoyed alone, as a digestive – in this case, put some drops on a pottery teaspoon (it can be also a plastic spoon). Steel could alter its peculiar smell and aroma!
How to store it: It is highly recommended to store it in a dry and dark place. Please, avoid important temperature variations.
Organoleptic properties:
Appearance: Clear
Colour: Dark brown, shiny
Smell: Pungent but harmonic
Taste: Smooth, with an aftertaste of wood and cherry
Density: 1,36
Ingredients: cooked must of grapes from Modena (Trebbiano and Lambrusco)
Allergens: Sulphites
Preservatives: None
Calories per 5 ml: about 43 kcal
Format: 100 ml- glass bottle designed by Giorgetto Giugiaro, precious wooden box,  parchment signed by the Acetaia to guarantee the high quality of the product box of the Consortium, glass tic dropper.
Customers who bought this product also bought:
Because our products are appreciated
Parma, Unesco city for gastronomy, is the epicenter of the Italian Food Valley
The best PDO and PGI products carefully selected from the best producers
Roberta and Chiara always available for all your requests
Packs prepared with care in food packaging and shipping with the best couriers