Prosciutto di Parma PDO - 18 Months - Whole - With Bone (10 Kg. / 22 Lbs.) + Ham Stand + Knife
🏆 Awards: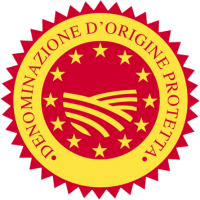 👨‍🌾 Producer: Salumificio Cav. Umberto Boschi, Caper, Sanelli
⚖️ Containing: ± 10 Kg. / 22 Lbs. (Prosciutto di Parma PDO)
📦 Vacuum Packed: No
⏱️ Shelf Life: : 5 Months
✈️ Shipping: Europe
1 x Prosciutto di Parma PDO - 18 Months - Whole - With Bone - 10 Kg. / 22 Lbs.
1 x Steel Ham Stand with Wooden Base
1 x Ham Knife - Professional - Blade 28 cm.
More information about the product
Spedizione con i migliori corrieri
| | Standard | Express |
| --- | --- | --- |
| Italia | Non Disponibile | 1/2 Giorni lavorativi |
| U.E. | 3/5 Giorni lavorativi | 1/3 Giorni lavorativi |
| Altri Paesi | 5/7 Giorni lavorativi | 2/4 Giorni lavorativi |
Parmashop has selected for you a symbol of quality, tradition and Emilian gastronomic culture: the Prosciutto di Parma with bone aged 18 months belonging to the Black Label line of Cavalier Umberto Boschi.
Why is Parma ham so special? The peculiarity of the territory in which it is produced and ages. Only the climatic conditions of the Parma hills allow you to bring this excellence to your tables: the dry wind which comes from the Tyrrhenian Sea and the Ligurian Riviera, crossing the woods and slowly descending from the hills, caresses the hams during the maturation process; the right level of humidity in the winter period and the warmth of sunny summer days are the perfect mix of elements for this excellence, in addition to the basic ingredients which are selected pork legs and sea salt.
Its colour from pink to ruby red, the sweet taste and its delicate smell, make every bite an unparalleled  experience.
Furthermore, the ham with bone is an even more refined delicacy, as meat stuck to the bone for longer periods acquires an even sweeter and more delicious taste.
Cavalier Boschi's family perfectly knows the ancient art of the butcher, an art which has been handed down for generations to give us only products treated with passion and love, just like in the past.
Do you know that there is a sommelier of hams? Also called spillatore or puntatore in Italian, this is a fundamental figure for the evaluation of these cured meats. He (or she) takes care of capturing the aromas by piercing the ham in specific points (this is the reason of his or her name) with an ancient tool called fibula. This tool is made from the  horse's tibia bone and, thanks to its porosity, it transfers the aromas to the taster's sense of smell, so (s)he is able to decide whether the ham can be branded as a PDO product.
In order to complete your purchase, or for an even more precious and original gift idea, the elegant iron ham stand with wooden base and handles will be perfect. The stand is necessary to keep the ham still, so you can proceed by cutting it with the functional professional knife. This is characterized by a handle which, thanks to the innovative texturing technology, guarantees a safe and comfortable grip.
Remove part of the rind with a sharp knife. We suggest not removing all the fat, because it helps to preserve the unique flavour. The slices must be thin (thickness of a sheet of paper).
We advise you to taste Prosciutto di Parma PDO on fresh bread, to completely enjoy its flavour, even if it matches perfectly with everything: with a few flakes of Parmigiano Reggiano or with mozzarella; it can also be combined with exotic fruit, or used as a tasty touch in more complex recipes.
The wines of our territory, Lambrusco in particular, enhance its flavour.
How to store it: the product vacuum packed can be stored until the best before date in the package. Once opened, the product must absolutely be stored in the refrigerator, at a temperature between + 4 ° C and + 8 ° C. For a perfect storage, we suggest to lightly oil the cut part, then cover it with a plastic film for food.
PDO Parma Ham:
Organoleptic properties:
Appearance: slightly moist meat
Colour: bright red in the lean part (with traces of fat and tyrosine); white in the fat part
Smell: hint of toasted and a slight smell of salt
Taste: balanced, between sweet and savoury
Ham stand:
Features: iron ham stand with wooden base, wooden handles, very stable
Dimensions: 60x18x15 cm
Professional knife:
Features: black plastic handle
Dimensions: semi-rigid blade of 28 cm
Aged: 18 months
Ingredients: pork and sea salt; gluten and lactose free
Allergens: none
Preservatives: none
Calories per 100 gr: about 267 kcal
Customers who bought this product also bought:
Because our products are appreciated
Parma, Unesco city for gastronomy, is the epicenter of the Italian Food Valley
The best PDO and PGI products carefully selected from the best producers
Roberta and Chiara always available for all your requests
Packs prepared with care in food packaging and shipping with the best couriers