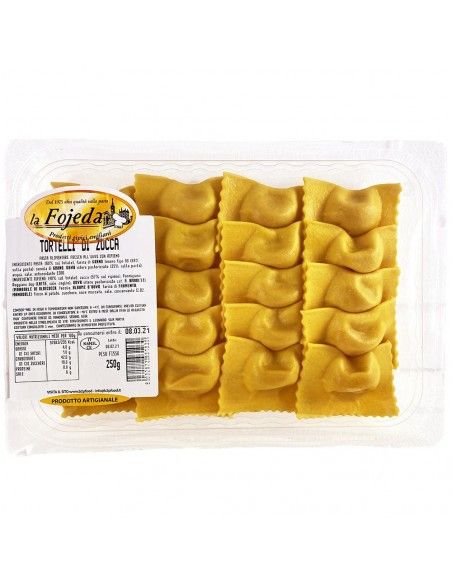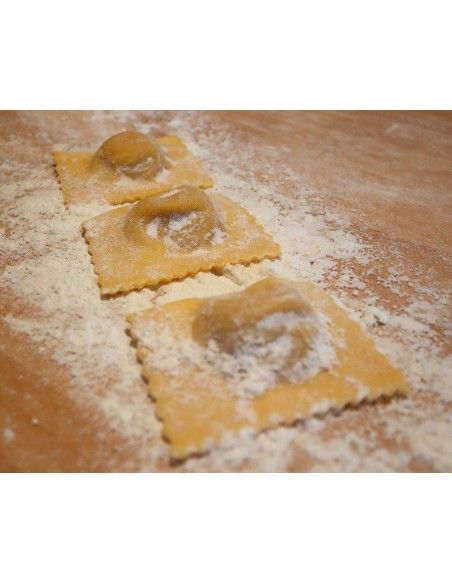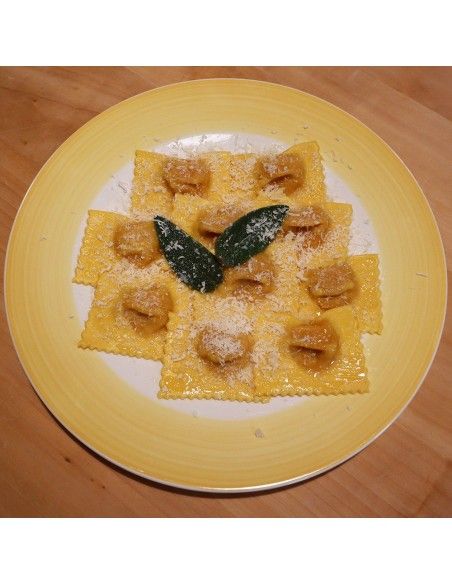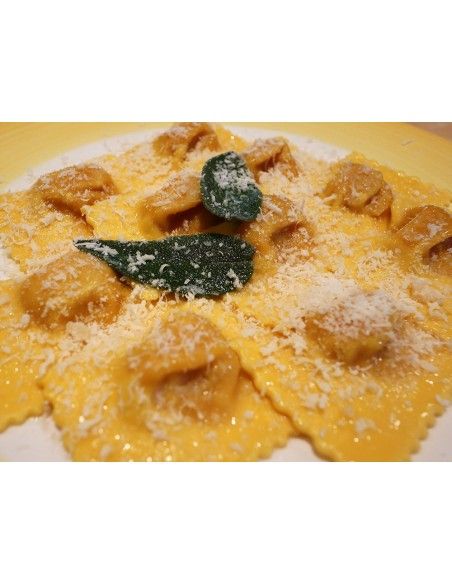 Tortelli with pumpkin, fresh filled egg pasta, handmade
Producer: La Fojeda
Containing: 250 gr  / 8.8 oz
Shelf Life: about two weeks; in the freezer at -18 ° within 6 months from the date of purchase
Shipping: Europe and USA
1 x Tortelli with pumpkin, fresh filled egg pasta, handmade – 250 gr  / 8.8 oz
More information about the product
Rated
5
/5 Based on
2
customer reviews
Spedizione con i migliori corrieri

| | Standard | Express |
| --- | --- | --- |
| Italia | Non Disponibile | 1/2 Giorni lavorativi |
| U.E. | 3/5 Giorni lavorativi | 1/3 Giorni lavorativi |
| Altri Paesi | 5/7 Giorni lavorativi | 2/4 Giorni lavorativi |
Handmade tortelli filled with pumpkin have a long tradition that dates back to the Renaissance (16th century), in the courts of the Gonzaga and Este family. In the recipe books of the time there are interesting references to Cappellacci with pumpkin. Even today, the Turtell Mantovano is recognized as a typical dish of Mantua, and prepared in several cities of Emilia Romagna, according to recipes slightly revisited.
It is a type of fresh filled egg pasta, typical of the local tradition; they have a rectangular shape and are stuffed with a mixture of baked or boiled pumpkin,
 amaretti, Parmigiano Reggiano cheese and nutmeg. The combination of ingredients is perfect, since the sweet pumpkin meets the savoury cheese and the bitter amaretto biscuit.
Pumpkin tortelli is a typically autumn dish, traditionally eaten at Christmas Eve. This is also because the pumpkin, which must be of excellent quality, ripens in September.
Pumpkin tortelli is traditionally seasoned with melted butter in a pan, slightly dark and flavoured with sage. Alternatively you can use sautée of onion and tomato with pork sausage, a typical condiment of the Mantua area.
How to store it: store tortelli sealed in a modified atmosphere in a refrigerator at a temperature not exceeding + 4° C. Always check the expiry date. It is also possible to freeze the tortelli up to 6 months from the date of purchase.
Organoleptic properties:
Appearance: egg pasta of rectangular shape
Colour: intense yellow
Smell: sweet
Taste: sweet (pumpkin), bitter-sweet (amaretti biscuits) and spicy (mustard)
Format: 250 gr-package containing 20 tortelli in modified atmosphere
Pasta ingredients: type 00 soft wheat flour, durum wheat semolina, pasteurized whole eggs cat. A, water, salt, antioxidant E300
Filling ingredients: pumpkin, Parmigiano Reggiano PDO (milk, rennet, salt), whole pasteurized eggs cat. A, amaretti biscuits (apricot almonds, starch, egg white, soft wheat flour, almonds), mustard, potato flakes, sugar, salt, nutmeg, preservative E202
Allergens: milk, eggs, almonds, egg whites, wheat; it may contain traces of celery and soy
Preservatives: E300 antioxidant and E202 preservative
Calories per 100 gr:  235 kcal
Customers who bought this product also bought:
Because our products are appreciated
Parma, Unesco city for gastronomy, is the epicenter of the Italian Food Valley
The best PDO and PGI products carefully selected from the best producers
Roberta and Chiara always available for all your requests
Packs prepared with care in food packaging and shipping with the best couriers