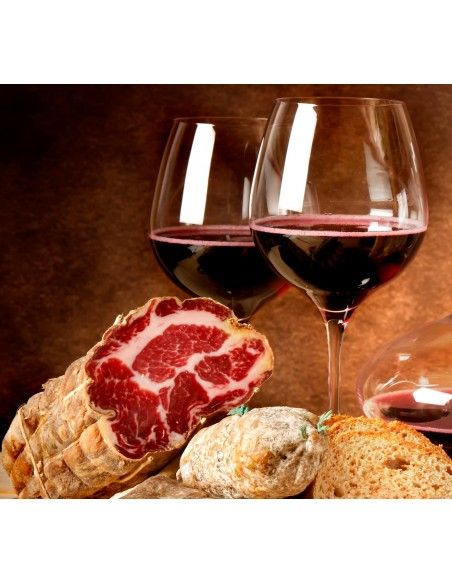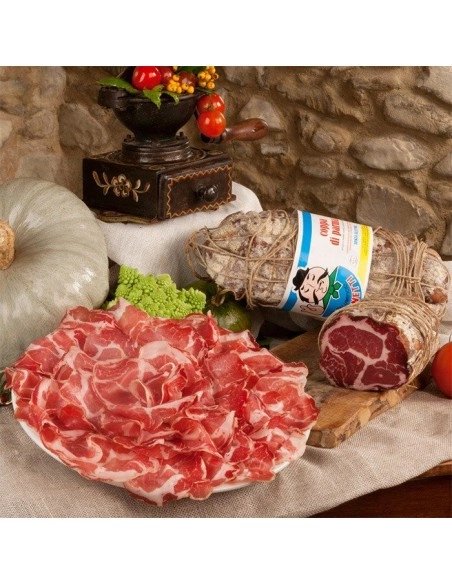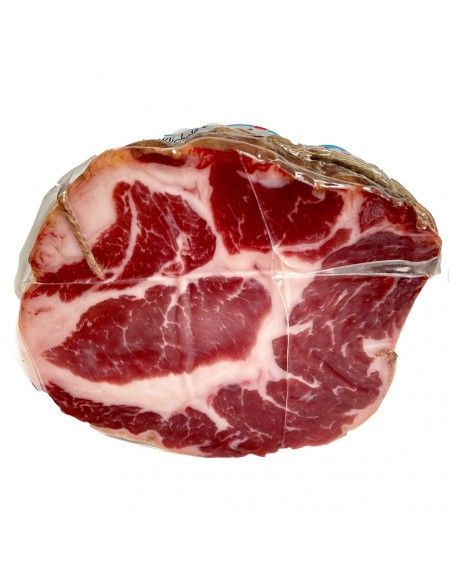 Coppa di Parma PGI, aged 2 months, half
Awards:
Producer: Salumificio Ravanetti
Containing: 0,9 Kg. / 2 Lbs.
Shelf Life: : 4 months
Shipping: available only in Europe
1 x Coppa di Parma PGI, aged 2 months, half – 0,9 kg
More information about the product
Rated
4.7
/5 Based on
32
customer reviews
Spedizione con i migliori corrieri

| | Standard | Express |
| --- | --- | --- |
| Italia | Non Disponibile | 1/2 Giorni lavorativi |
| U.E. | 3/5 Giorni lavorativi | 1/3 Giorni lavorativi |
| Altri Paesi | 5/7 Giorni lavorativi | 2/4 Giorni lavorativi |
Coppa di Parma PGI is obtained from the muscular part of the pig's neck, cut and prepared according to an ancient and typical recipe of the Ravanetti family.
The flavour of the coppa is given by the ageing period. The softness and sweetness of this product are the result of the salting process, carried out by hand, and the skilful and delicate massage of the meat. It is then stuffed into natural casings and tied with natural fibre string.
The curing takes place for a minimum of 60 days, a period which gives the coppa its unique, sweet and slightly spicy flavour, aroma and perfect consistency.
The difference between the Coppa di Parma IGP and the Coppa di Piacenza is in the ageing period, that in the latter case is much longer.
If Coppa di Parma PGI is very hard (this is due to its maturation) we suggest to treat it by wrapping it in a cloth soaked in water and white wine for one day. Then the string and the external skin can be removed. We recommend cutting it into thin slices, preferably with a slicing machine. Together with other delicacies of Parmesan charcuterie, Coppa di Parma PGI is excellent served on a board as an appetizer or for a happy hour.
How to store it: once cut, keep it in the fridge, protecting the cut part with transparent film and wrapping it in a cotton cloth slightly soaked with water.
Organoleptic properties:
Appearance: rustic

Colour: ruby red with white fat veins
Smell: aromatic, balanced
Taste: delicate, with adequate degree of flavour
Aged: 2 months
Ingredients: selected pork meat, salt, dextrose, natural flavours and spices. Antioxidant E301; gluten-free
Allergens: none
Preservatives: E250 - E252
Calories per 100 g: about 366 kcal
Format: half Coppa di Parma PGI, vacuum-packaged, about 0,9 kg
Customers who bought this product also bought:
Because our products are appreciated
Parma, Unesco city for gastronomy, is the epicenter of the Italian Food Valley
The best PDO and PGI products carefully selected from the best producers
Roberta and Chiara always available for all your requests
Packs prepared with care in food packaging and shipping with the best couriers