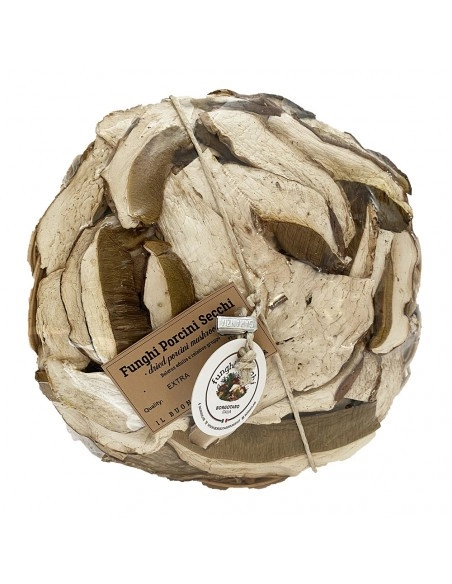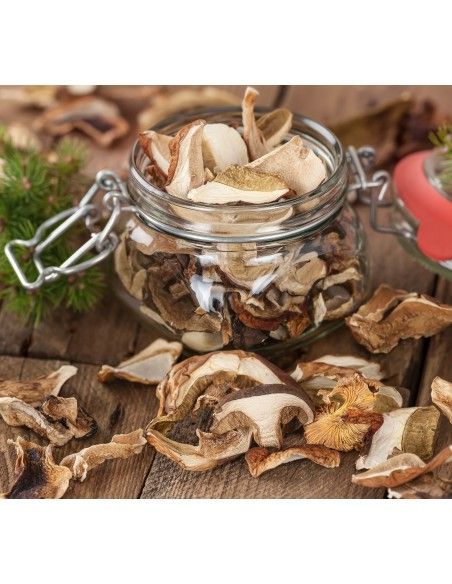 Dried Porcini Mushrooms - Valtaro - Quality Extra - 100 Gr. / 3.53 oz.
Producer: Borgolab
Weight: 100 gr. / 3.6 oz.
Shelf Life: 10 Months
Shipping: All the World, except Australia
Basket containing 100 gr / 3.6 oz. of Dried Porcini Mushrooms Boletus Edulis and related group - "Extra" Quality
More information about the product
Rated
4.8
/5 Based on
15
customer reviews
Spedizione con i migliori corrieri

| | Standard | Express |
| --- | --- | --- |
| Italia | Non Disponibile | 1/2 Giorni lavorativi |
| U.E. | 3/5 Giorni lavorativi | 1/3 Giorni lavorativi |
| Altri Paesi | 5/7 Giorni lavorativi | 2/4 Giorni lavorativi |
The town of Borgotaro is known for the excellent quality of Porcini mushrooms.
The spontaneous birth of Porcini mushrooms embraces three seasons (winter, spring and summer), though September and October are the months which give greater satisfaction. In this period, in fact, entire groups of gourmands leave every morning in search of this treasure hidden in the undergrowth of beech, oak and chestnut trees of this magnificent area.
Porcini Mushrooms are a highly appreciated product with an unmistakable aroma and flavour. Boletus (this is their scientific name), in fact, are an excellent ingredient for many dishes, thanks to a versatility that is well suited to both the preparation of appetizers, first courses (especially risotti and tagliatelle), as well as second courses.
Did you know that mushrooms are low in calories and rich in minerals such as phosphorus and potassium?
The "Extra" quality of dried Porcini is characterized by whole slices of Porcini. This is the best you can get!
In order to dry the mushrooms it is used the traditional method. It consists in depriving them of the water they have inside, making them dry and suitable for prolonged storage: the mushrooms are dried in the sun in well-ventilated places. The drying time can last from 1-2 days up to 4-5 days.
Soak the mushrooms in warm water for twenty minutes, rinse thoroughly to remove any residual soil and squeeze them well. Then, the mushrooms are ready to be cooked.
The Porcini mushrooms are perfect to prepare a risotto: in this case, add them to a mirepoix and cook them for a while before adding rice.  
You can use the Porcini mushrooms in several ways: you can enjoy them alone, as an appetizer or  as a side dish to combine with meat or fish. Also, they can be used to prepare sauces or as a condiment for pasta (tagliatelle with Porcini mushrooms is a must).
How to store it: Store in a cool and dry place.
Organoleptic properties:
Colour: Cream to Brown
Smell: Spicy 
Taste: Intense
Ingredients: Porcini Mushrooms
Allergens: None
Preservatives: None
Calories per 100 g: 293 kcal
Format: Straw basket containing 100 gr of dried Porcini Mushrooms Boletus Edulis "Special Quality"
Customers who bought this product also bought:
Because our products are appreciated
Parma, Unesco city for gastronomy, is the epicenter of the Italian Food Valley
The best PDO and PGI products carefully selected from the best producers
Roberta and Chiara always available for all your requests
Packs prepared with care in food packaging and shipping with the best couriers